At Nemag we understand that dry bulk terminal operators are always looking for ways to increase terminal efficiency. This is important for optimising shareholder profits and increasing the competitive edge. Grabs play a crucial role in raising terminal efficiency. That's why Nemag is proud to introduce the most productive grab for iron ore: NemaX. This new grab for handling iron ore will increase productivity by more than 10%, thereby guaranteeing the most efficient unloading process.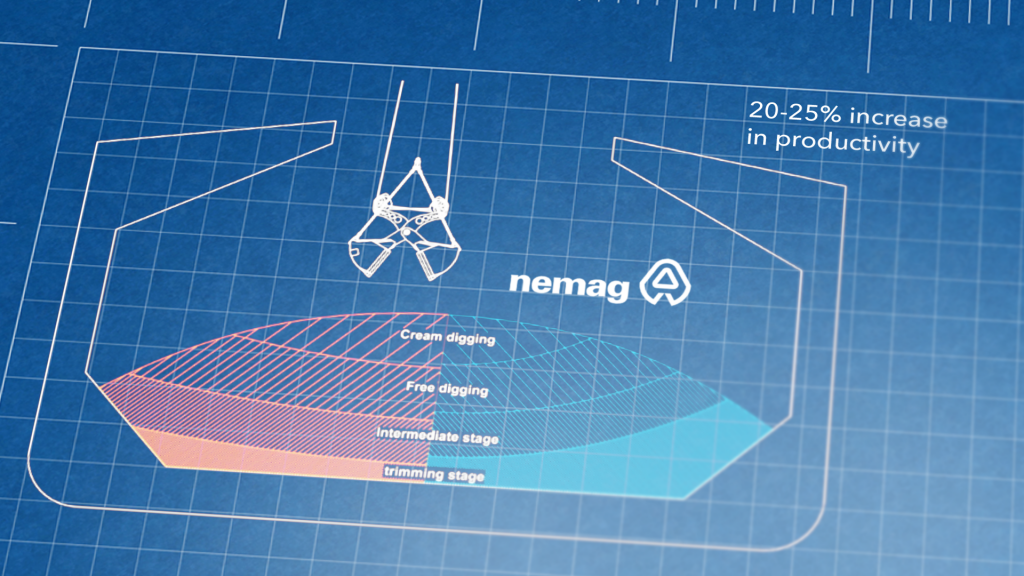 The phases in the unloading process
In the transshipment sector, cream digging and free digging rates are generally seen as the key figures for the unloading capacity of a crane. The crane capacity is almost always expressed as a free digging rate, which is the productivity of the crane and the grab as measured from a specific point in the hold, multiplied by the number of cycles per hour. This provides the most reliable measurement. 65% of the unloading time is spent on the last 30% of goods. Meaning, most of the unloading time is not spent on the free digging phase, but the intermediate and trimming phase.
Do you want to know how we managed to accelerate the unloading process in all stages through extensive computer simulations and on-site testing? Our new whitepaper; Most efficient unloading solution, explains this and the results.